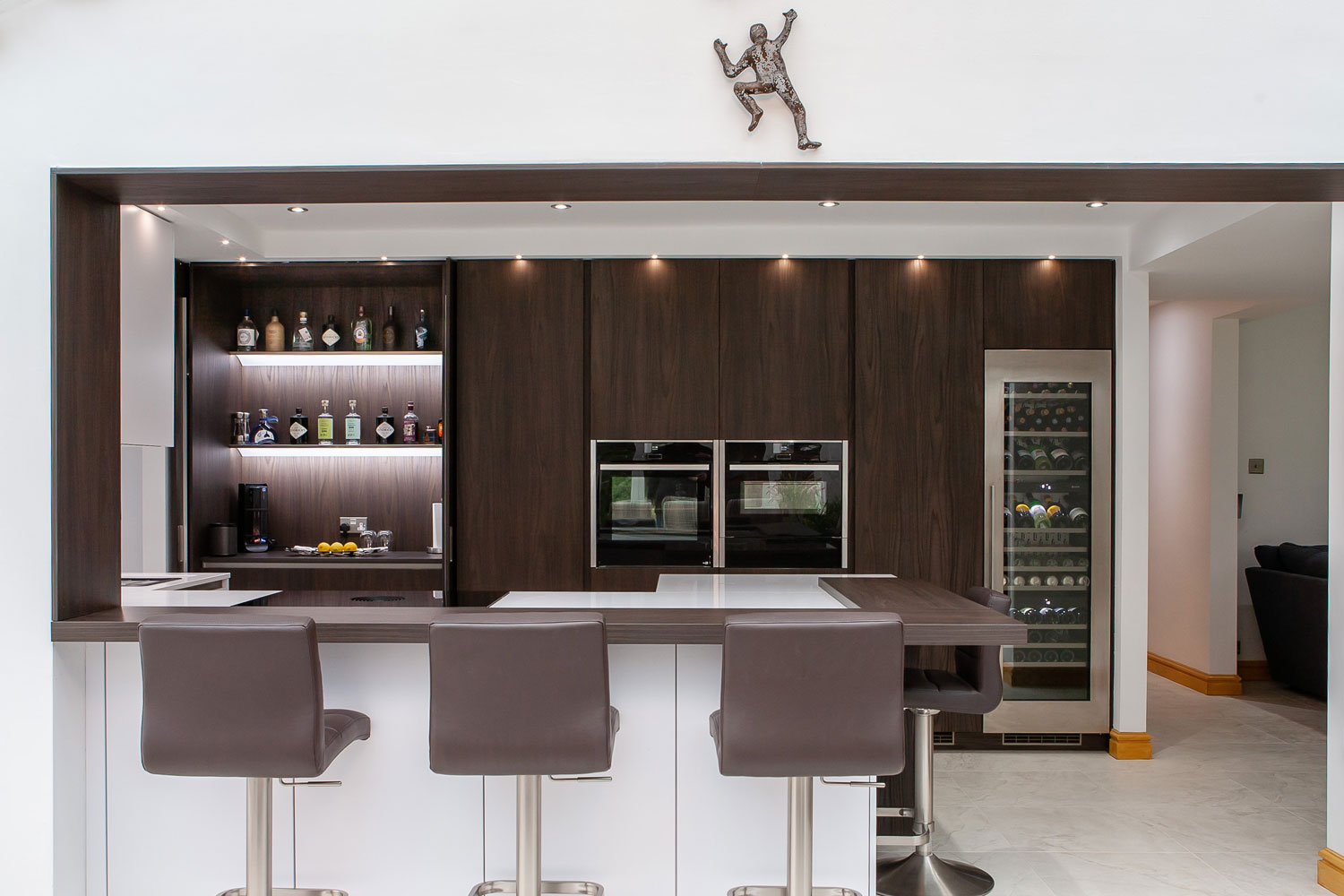 Dark Sher­wood and Super White
Handle­less Kitchen
Design Brief & Solution
This brief for this spectacular kitchen design was to open up the existing kitchen and dining room to create a better flow through the space, while catering to the client's glamorous tastes and lifestyle. With an inbuilt wine fridge and hidden gin bar, this kitchen is superbly designed for entertaining.
Every aspect of this kitchen has been carefully considered to enhance both practicality and style. The u-shaped peninsula, with its luxurious Sherwood Dark Brown breakfast bar, creates the perfect area for guests to socialise with the host being central to the action. The half depth units at the back of the peninsula with the doors to the floor keep the look minimal, while offering ample secondary storage.
The contour of dark wood stretching from the breakfast bar and along the steel frame to create the picture effect provides a breathtaking, fluid architectural feature and links the kitchen into the dining area.
The warmth and texture of the rich woodgrain on the larder units is emphasised by intelligently arranged lighting which creates a stunning ambience in the evening. The dark wood contrasts beautifully with the Super White matt lacquer and Silestone worktops, creating the clean and contemporary aesthetic the dentist client was looking to achieve by incorporating white.
Despite the minimal aesthetic, this kitchen oozes personality. The bespoke 'hide and slide' Pronorm pocket doors hide a gorgeous gin bar and coffee station with sophisticated integrated lighting. Opposite the peninsula is a bespoke shelving module for displaying personal items and recipe books.
Every aspect of this space has been designed to create a luxurious and atmospheric environment with remarkable functionality.
Designer's Favourite Feature
"My personal highlight of this space is the pocket doors. Once opened, they reveal the exquisite gin bar which makes for a great entertaining space and topic of discussion."
X-VU Sherwood darkbrown
X-TU super white