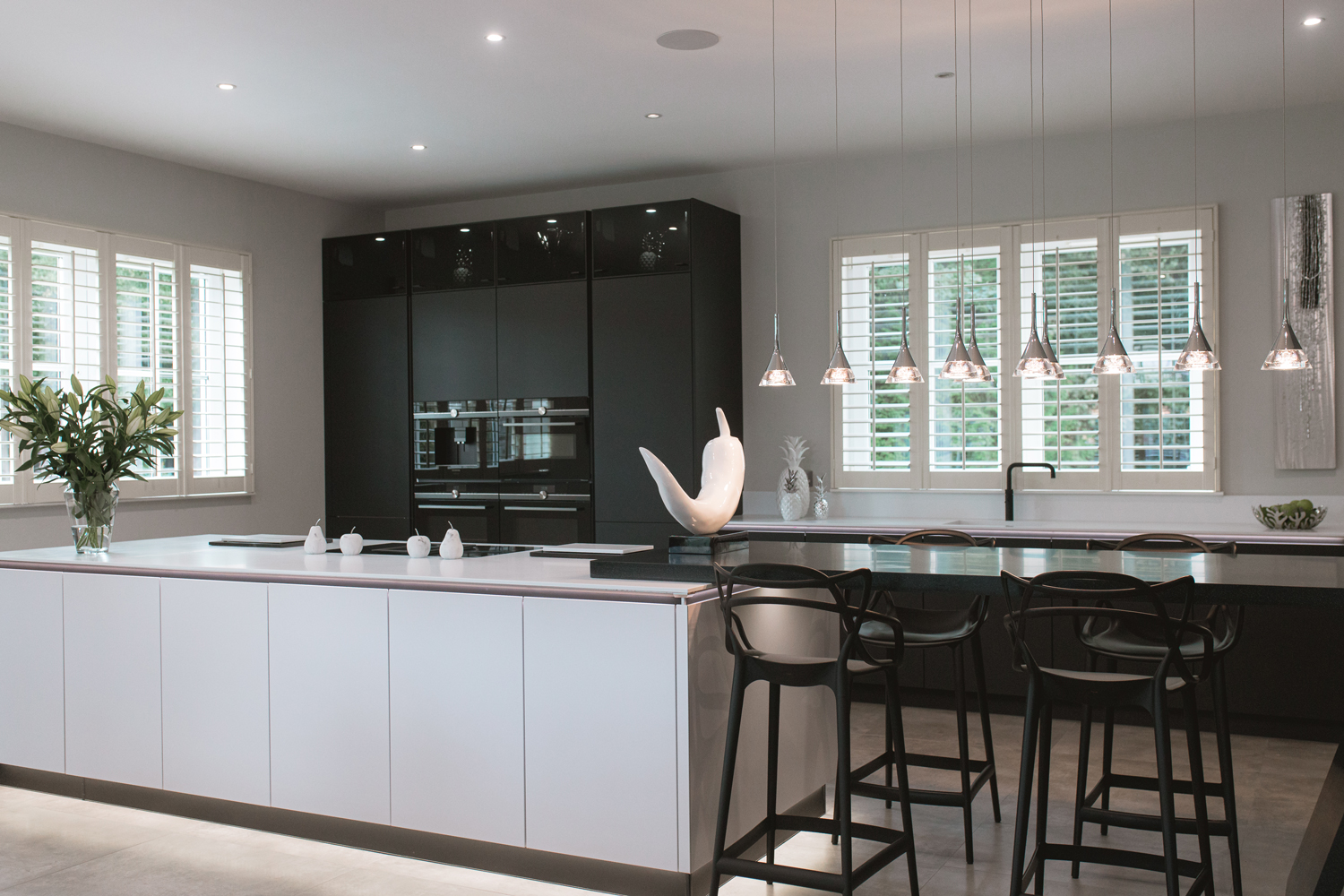 Mono­chrome kit­chen with time­less modernity
Design Brief & Solution
This bold, monochromatic scheme reflects the client's specific brief for a truly unique black and white kitchen design, with all the wow factor and functionality required for regular entertaining. The ample kitchen meets the requirements of being sociable and practical, while elegantly dovetailing elegantly with the sleek modern aesthetics of the contemporary dining space.
Central to the scheme is a large island unit featuring Pronorm's Super White handless units and slimline Corian worktops which contrast beautifully with the illuminated matt black handlerail and plinth. The striking black elements carry through to the multi-purpose worktop come breakfast area, whose pièce de résistance is the bespoke angled support which perfectly complements the minimalist design aesthetic.
Well-considered, bespoke features elevate the scheme, including Pronorm's glazed top boxes which feature within the tall units on the back run and in the dresser cabinet in the dining area, adding a subtle sheen with their ambient lighting while utilising the full height of the room for storage.
Care, detail and consideration was given to lighting the large, monochromatic space. The handle rail, plinth and units were installed on individual circuits, allowing full control and providing subtlety to evening lighting when required.
The overall result is a dramatic design awash with monochrome colour contrasts, clean lines and superior materials.
Designer's Favourite Feature
"The highlight of this scheme is not one single element of the design, but the clients' confidence to go for a pure monochromatic feel contrasted with metal touches. The commitment to the bold design look doesn't waver throughout the scheme, from the black handlerail and plinth to the appliances, dramatic lighting and tap."
Y-MP black
Y-MK Matt lacquer super white